Take Your Networking to the Next Level with DISC
"In networking, when you understand your behavioral traits, the unique traits of others, and how you interact with those around you, you gain insight to adapt your communication style to best fit the conversation and personality of the connection you're meeting with. I [Joseph] have found one of the best ways to do this is with DISC." 
–Joseph Luckett (Zero to 100: The Gold Standard of Global Networking, pg. 30)
Take the Guesswork out of Networking with DISC
Taking the DISC assessment is an opportunity to take the guesswork out of networking for both individuals and networking organizations. 
Benefits to Individuals:
Have more productive meetings while feeling more confident and at ease


HOW? > By understanding how you pair with other DISC behavior styles

Improve your emotional intelligence and increase your earning potential


HOW? > Through a research-based and validated system

Deepen your connections and maximize your networking success


HOW? > By discovering your networking blindspots and pitfalls to avoid wasting time
Benefits to Organizations:
Decrease membership attrition


HOW? > By creating stronger and more profitable connections amongst members

Increase membership


HOW? > By meeting the needs of networkers with varying behavior styles

Encourage the success of all members


HOW? > Through increased self-awareness and emotional intelligence

Reduce conflict within the organization
HOW? > By eradicating cliques and creating community and inclusivity.
Take the Free DISC Work from Home Assessment for a report on your primary DISC style.
Discover the power of bringing DISC and Motivators to your organization.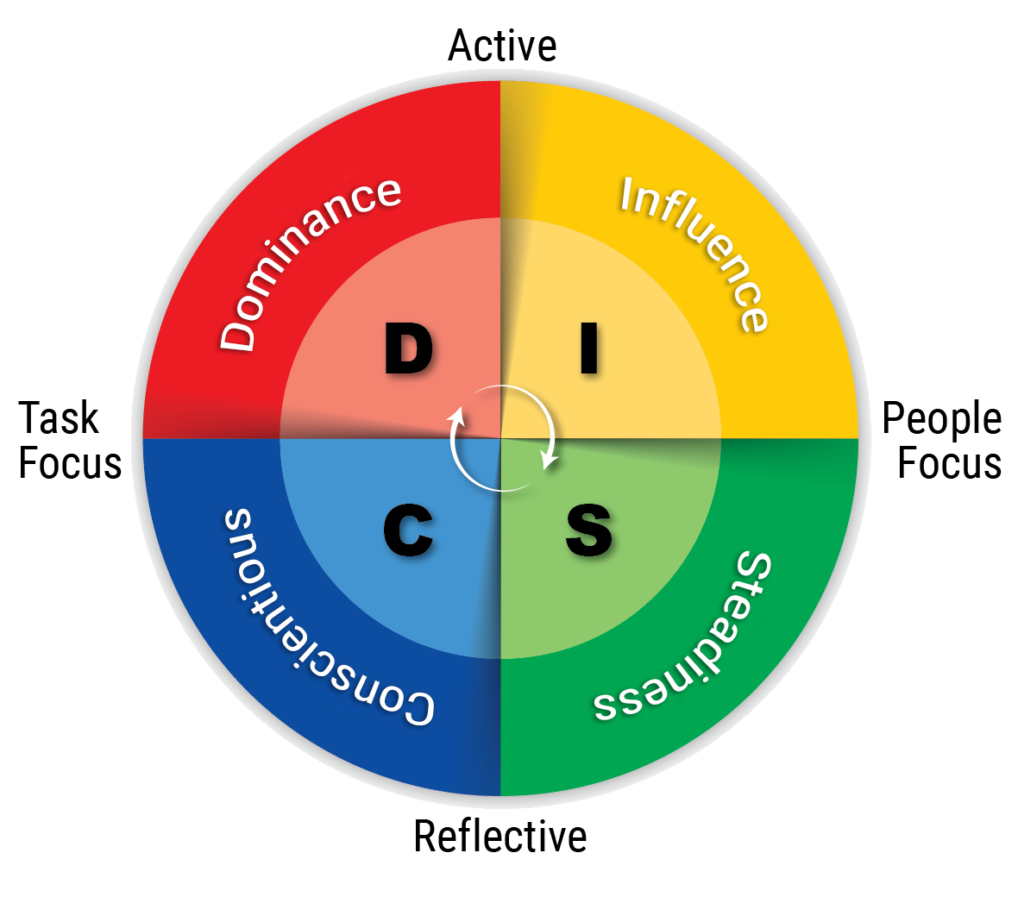 "The DISC model is based on the work of William Marston, Ph.D. The DISC model addresses the way people respond to problems and challenges (D), people and contacts (I), pace and consistency (S), and procedures and constraints (C). Your specific DISC profile is a blend of the four behaviors. DISC alone is only one piece of the puzzle that makes up what is commonly referred to as your personality." (Zero to 100: The Gold Standard of Global Networking, pg. 29)
If you're looking to dive deeper into DISC and learn more about how it impacts your networking, there is more! "The Six Motivators" are another measurement component that can help you understand why people are the way they are. 
"Another crucial piece of the personality puzzle is what motivates you." The Six Motivators. . . are based on the work of Eduard Spranger, Ph.D. His model addresses what drives or motivates people to do what they do. 
Through further assessment opportunities that include The Six Motivators, you can discover:
What drives you and how it affects your networking

Which networking style is best for you

How to find the best networking organization
Get Your Free
DISC Assessment